Security - Free
von Webroot Inc.
Hersteller: Webroot Inc.
Version: 3.6.0.6651
Letztes Update: 27. November 2014
Groesse: 2,8M
Downloads: 1.000.000–5.000.000
Android: 2.2 oder höher

Bewertung: 4,3 (aus 10.647)

Screenshots: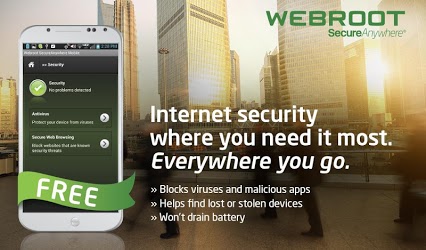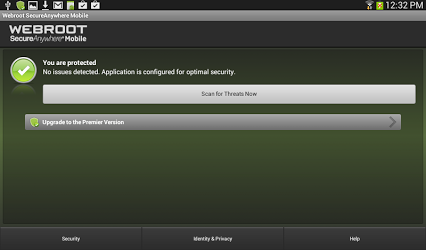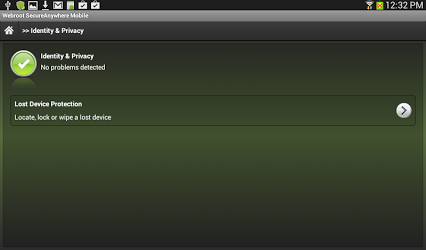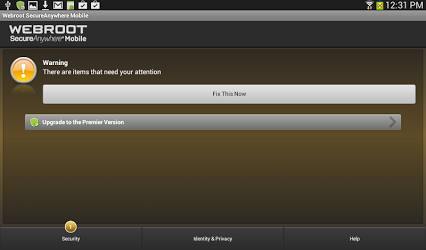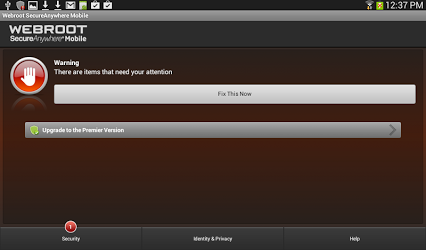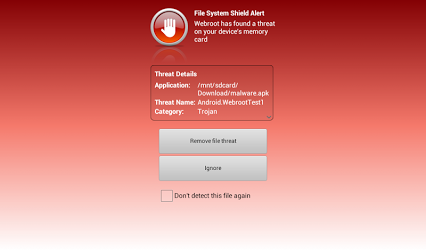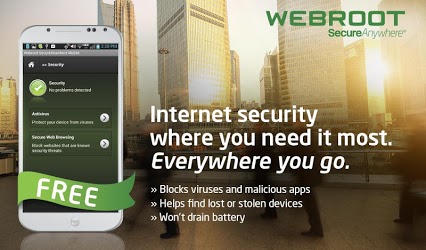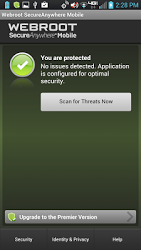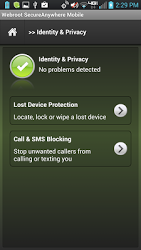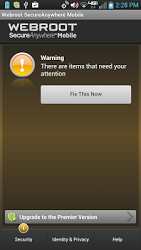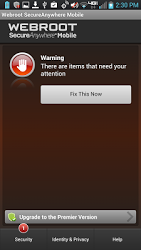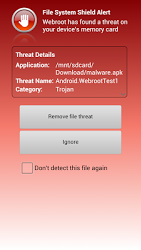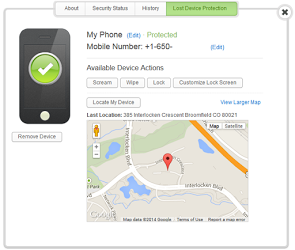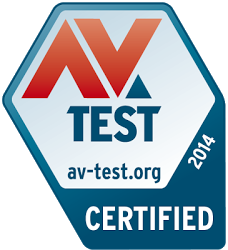 Beschreibung:
FREE antivirus, internet security, and identity protection
Webroot SecureAnywhere® Mobile keeps you secure when browsing, shopping, and banking on your Android™ device. It locates and locks lost or stolen devices, and automatically scans your apps for threats and malicious behavior.
AV TEST Certified with 100% malicious app detection
Over 1.5 million mobile devices are protected by Webroot SecureAnywhere® Mobile - get protected now.
MOBILE SECURITY
► Automatically scans apps for malware and viruses
► Set it and forget it – continuous protection without battery drain, interruptions or slowdowns
► Real-time anti-phishing identifies and blocks fake websites that trick you into entering your personal information
► Warns you about infected websites before you visit them
► Blocks unwanted calls and text messages
► Social network protection including Facebook and Twitter
LOST DEVICE PROTECTION
► Lock – Remotely lock your device if lost or stolen
► Locate – See your device's GPS location
► Scream – Sound an alert to help you find your device nearby
*3G, 4G, or wifi connection required for lost device features
RAVE REVIEWS
★ Named One of the PCWorld's Best Free Android Apps of 2011 -PCWorld
★ "Webroot offers advanced features not found in competing products."—PC Magazine
★ "Best of the security applications for Android phones."—Tech of Web
★ "A must for Android users."—Uberphones
PREMIER PAID FEATURES
For the following enhanced mobile antivirus and other premier security features, please visit Webroot SecureAnywhere® Mobile Premier at play.google.com/store/apps/details?id=com.webroot.security.full• Device Wipe – Remotely erase your data from the device if lost or stolen
• SIM Card Lock – Automatically locks your device when the SIM card is removed
• Network Monitor – Provides details of apps that are accessing the network
• Battery Monitor – Provides battery status and power usage by apps
• App Inspector – Scans all apps and identifies those that can:
- Access your email and SMS messages
- Cost you money
- Access sensitive information
- Track your location
- Drain your battery
LEARN MORE
• More info on SecureAnywhere Mobile:
http://www.webroot.com/us/en/home/products/android
• Facebook: facebook.com/Webroot
• Twitter: twitter.com/Webroot
• Troubleshoot issues with installation or logging in:
https://is5.nohold.net/Webroot/Login...olutionid=1925
• Need support?:
http://www.webroot.com/us/en/support/support-home
Video: